1 Answers
Other than admin you can add other users to ZKPOS. This will let other users to access ZKPOS. Other users can access only limited features that assigned to them. We can add 5 types of user privileges. Admin, Cashier, Food Server, Kitchen Manager and finally the custom role. Follow the below steps to learn about other user privileges. To create a NEW USER, follow the steps below.
• Click SETTINGS.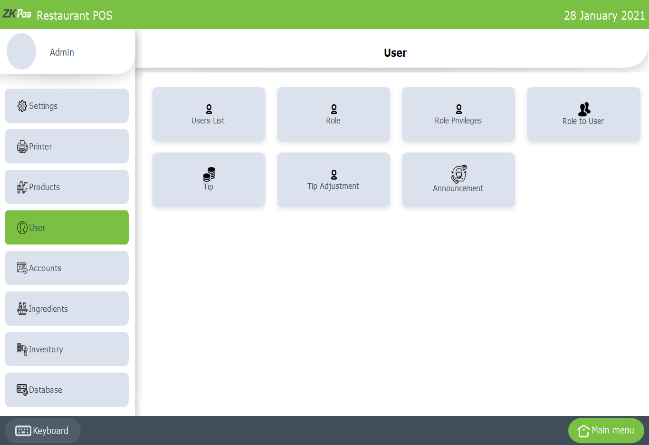 • Click USERS.
• Click on USER LIST menu on the top left of USER window.


• ADMIN USER will be there by default. To view/edit Admin details click on ADMIN button.
• You can add new users by clicking on ADD (+) button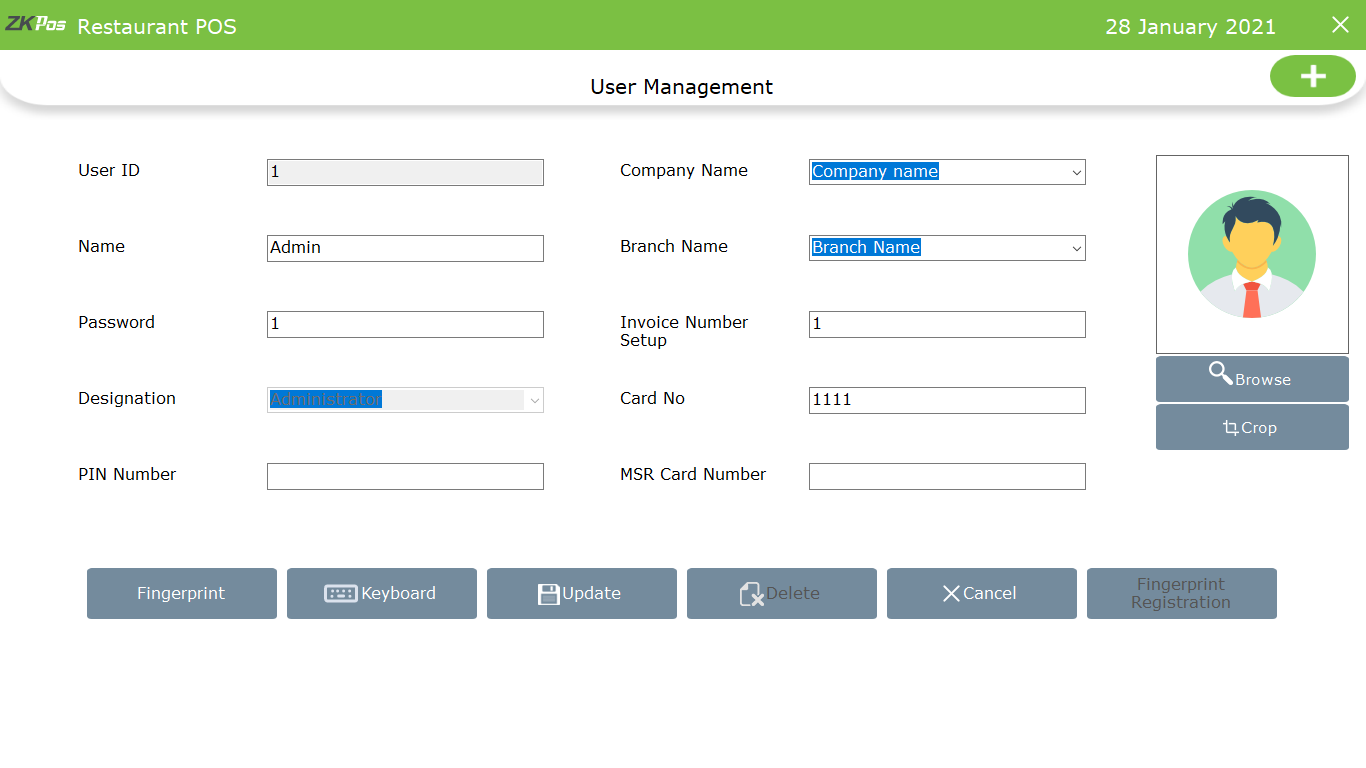 • USER ID, NAME, PASSWORD, COMPANY NAME, BRANCH NAME, INVOICE START NUMBER, CARD NUMBER, MSR CARD NUMBER etc. everything will be displayed. You can't edit the designation of admin. Also you have an option to login using a PIN number, for that enter the pin number.
• After making necessary alterations click on OK button. You cannot delete admin.
• To add a new USER, click ADD button.
• In the new window you have to specify the User ID, Password and Designation of the user. Default User ID can change as you wish. Pin is optional that lets you to login using your pin number.
• Company details and invoice start number will display automatically. Add CARD NUMBER and MSR CARD NUMBER if necessary.
• You can add finger print login also
• You have to activate ' Enable finger print log in' in utility
• Click finger print button
• Connect the device and registre your finger print
• There is two types of finger print registartion – one is registered by connecting an external device like SLK 20R and other is register the finger print by inbuilt device in POS machine
• To registre by using inbuilt finger print you have to enable 'enable inbulit finger print registration'
• After adding all necessary details click UPDATE button.